Featured Los Gatos Hotels
A Private Mediterranean Villa amid the Quiet Charm of Downtown Los Gatos
210 E. Main Street, Los Gatos CA 95030
1.800.780.5733 (Europe: 00 800 1120 1140)
Book a room at Hotel Los Gatos
The terra cotta Hotel Los Gatos, set amid the mountainous charm of historic downtown Los Gatos, has the sophistication of a Mediterranean estate with a distinctly Californian affability. Guestrooms are luxe in rich colors, furnishings and Egyptian linens. The gardens, fountains and wrought iron balconies outside create the sensation of being personal guests at a private Italian villa. The Hotel Los Gatos' award-winning Preston Wynne Day Spa is an exalted space for Californian twists on ancient Asian therapies for body and mind.
An Oasis away from bustling Silicon Valley
50 Los Gatos/Saratoga Rd, Los Gatos CA 95032
1.800.780.5733 (Europe: 00 800 1120 1140)
Book a room at Los Gatos Lodge
The Los Gatos hotel for an authentic Santa Cruz mountain lodge feel since 1958, the Los Gatos Lodge is set on ten acres of lush woodlands and landscaped gardens while still being just a short walk away from downtown Los Gatos' boutique shopping and fine dining. A Los Gatos destination hotel for Silicon Valley corporate execs, every Old West-furnished and forest-toned guestroom at the Los Gatos Lodge has internet access and a private patio.
In the Heart of Downtown Los Gatos
140 S. Santa Cruz Ave., Los Gatos CA 95030
1.800.780.5733 (Europe: 00 800 1120 1140)
Book a room at The Toll House Hotel
Nestled at the base of the majestic Santa Cruz Mountains, the Toll House Hotel captures the charm and ambiance of historic downtown Los Gatos. Just steps away you will be surrounded by delightful shops, fascinating art galleries, international restaurants and antique stores. The Toll House Hotel and Los Gatos is the perfect base for exploring the Santa Cruz Mountain Wineries, Villa Montalvo's Concert Series and the beach town of Santa Cruz.
Featured Area Hotels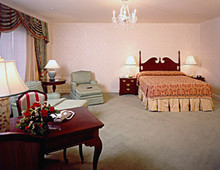 1300 Camden Avenue, Campbell CA 95008
1.888.632.2726
Book a room at Carlyle Hotel
A charming hideaway in on the border of Campbell and Los Gatos just minutes from Good Samaritan Hospital, the Carlyle Hotel offers easy access to some of the best dining, nightlife and shopping that the Bay Area offers, not to mention countless major businesses and world-class wineries. Each room has been lovingly appointed with Queen Anne cherry furnishings, crystal chandeliers and modern amenities like WiFi access. Each morning, guests can look forward to the Carlyle Hotel's complimentary European-style breakfast buffet, which features eggs, sausage, cereals, fresh fruit, breads and more.
Back to top