Featured Los Gatos Attractions
565 University Ave., Los Gatos CA 95030; Tel. 408.395.7650
Located in the heart of Los Gatos, Campo di Bocce stands out as a perennial favorite among South Bay Area crowds. This restaurant and bar is a full blown Los Gatos attraction that draws in scads of people—young and old—to eat, drink, be merry and try their hand a bocce ball. As fun for a group event as it is for a random night out with family, Campo di Bocce is a local favorite for a good reason.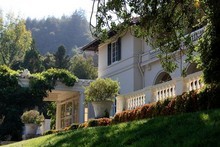 15400 Montalvo Rd, Saratoga CA; Tel. 408.961.5800
Montalvo Arts Center has established its reputation as one of Silicon Valley's most beloved and most respected arts organization, dedicated to a single purpose: to foster a long-lasting legacy with the San Jose community and the arts culture that surrounds them. Montalvo prioritizes arts education, arts excellence and arts immersion, with a 175-acre estate in the foothills of Saratoga that allows guests to explore the grounds and partake in the center's fantastic events, from concerts and galleries to stand-up and theatre. Montalvo lives up to its reputation as one of the South Bay's most important artistic spaces.
Art Museum of Los Gatos
4 Tait Avenue, Los Gatos CA 95030 Tel. 408.354.2646
Art Museum of Los Gatos displays exhibits of Bay Area artists that change each month or two. The art museum also has exhibits displaying creative works by budding elementary and high school artists. In addition to displaying art, the Art Museum of Los Gatos offers fine art classes for children, teens and adults of all levels. This popular Los Gatos attraction is open Wednesday through Sunday, noon to 4pm.
Billy Jones Wildcat Railroad and Bill Mason Carousel
at Oak Meadow Park
University and Blossom Hill Rd., Los Gatos; Tel. 408.399.5770
Oak Meadow and adjoining Vasona parks in Los Gatos are among the Santa Clara Valley's most serene and picturesque spots, and the Billy Jones Wildcat Railroad is the best way to view them both. A one-third-scale--and real--1905 steam engine locomotive powers the five passenger cars that wind around lakes and wooden bridges over duck-filled, free-running streams, past groves of willow and sweet-smelling eucalyptus. If a train is just too modern a convenience, there is the 24-horse Bill Mason Carousel nearby, built originally for the 1915 San Francisco Panama-Pacific Exposition. Listen to calliope music or the creaking mechanism as you read signs that show what Grandma had to put up with ("So sorry, ladies must ride astride!").
History Museum of Los Gatos, Forbes Mill
75 Church Street, Los Gatos CA 95030; Tel. 408.395.7375
Los Gatos' local history museum displays rotating exhibits and maintains a permanent collection depicting the history of the Los Gatos area's pioneer days. The building itself, originally part of the Forbes Mill Annex, is actually a state historical landmark. Entrance is free, but a suggested donation of $2 is always welcome and the museum is open Wednesday through Sunday, noon to 4pm.
Kotani-En Japanese Garden
15891 Ravine Rd, Los Gatos CA
Though closed to the public, this privately owned Japanese garden is a state historical landmark. A prominent example of Japanese landscape architecture in the U.S., Kotani-En is a classical Japanese residence in the formal style of a 13th-century estate with tile roofed walls surrounding a tea house, shrine, gardens and ponds. Constructed for Max M. Cohen in 1918-1924 of mahogany, cedar, bamboo and ceramic tile by master artisan Takashima and eleven craftsmen from Japan, Kotani-En represents a harmonious union of art and nature in a two-acre rustic environment. Kotani-En. (Source: Office of Historic Preservation - California Department of Parks and Recreation)
Lexington Reservoir
17770 Alma Bridge Rd. (Off Highway 17), Los Gatos CA 95032; Tel. 408.356.2729
Lexington Reservoir County Park is a scenic 960-acre park and reservoir in the Santa Cruz Mountains above Santa Clara County. The park includes a 475-acre reservoir which can be traversed in rowboats, sailboards or electric powered boats. Fishing is permitted, however, swimming is banned. The Jones Trail and trails in the Saint Joseph's Hill Open Space Preserve can be accessed from the park.
Los Gatos Creek Trail
Nine-mile trail offers aerobic enjoyment to pedestrians, hikers, bicyclists, dog walkers and nature enthusiasts. Access trail from Vasona County Park and Oak Meadow Park off Blossom Hill Road; from downtown Los Gatos at Miles Avenue, Main Street and Forbes Mill; or from the Lexington Reservoir Dam. Parking and public transit are available.
Los Gatos Historic Commercial District
19 buildings spread over 50 acres were declared a historical district in 1991, after several buildings were destroyed in the devastating1989 Loma Prieta Earthquake, whose epicenter was in the hills above Los Gatos. Well preserved examples of Queen Anne, Mission/Spanish Revival, Romanesque architecture built between 1975 and 1949 can be found at 1-24 N. Santa Cruz Ave., 9-15 University Ave. and 14-198 W. Main St.
Los Gatos Mountain Trails
This complex of trails starts downtown and branches into the hills south of Los Gatos. Every morning and evening, the Los Gatos Creek Trail teems with bikers and joggers diligently raising their heart rates. For those inclined to more leisurely pursuits, the Scout Trail for hikers starts at the same spot, just east of the freeway overpass on East Main Street, and takes a few charming twists into shady creek-side groves before lurching up a sun-baked mountain on the way to Lexington Reservoir. Wild fennel and raspberry and the occasional alarming scuttle in the bushes lend a bucolic flavor to the experience. (Traci Hukill)
Vasona County Park
333 Blossom Hill Rd., Los Gatos, CA 95032; Tel. 408.356.2729
Santa Clara Valley residents enjoy this 151-acre park's wealth of venerable trees, grassy knolls and meandering waterways. A popular spot for picnics, hiking, sports and recreation, its grassy turf areas invite Frisbee tossing, kite flying, softball, soccer or volleyball. Vasona Lake is open for non-power boating year-round; paddle boats and row boats can be rented. Black bass, crappie, catfish and blue gill populate the lake and licensed anglers can try their luck. For picnickers, the park offers individual tables and barbecues along with eight reservable group areas. Children enjoy the ducks, though check the rules before feeding them.
Back to top